Banks must evolve to meet their customers´ expectations now and into the future. For corporate and commercial banking customers, there is an increasing demand for tools and services to improve the management of their cash position.
This is resulting in the opening up of transactional data to improve cash visibility and allow integrations into wider solutions. As an example, corporate customers integrating real-time transactional banking data into ERP systems can now use machine learning to detect trends and improve cash forecasting.
Payments are key for cash management reconciliation and position, and it is becoming increasingly automated to reduce the risk of fraud and cut delays. By reducing manual intervention, this has the added benefits of minimizing the incidents of human error.
Internally, Banks themselves are streamlining processes to reduce costs and increase efficiency. Robotic Process Automation combined with machine learning solutions is helping banks to digitize previously manual processes in reconciliation, fraud detection and financial crime activities. Those processes have a direct impact on the Corporate's Cash Position at the end of the day.
However, the meeting of these expectations is presenting its own challenges that banks need to overcome, on this blog we will focusing on the challenges & opportunities of APIs in cash management.
Challenges in Cash Management
One of the most challenging aspects of cash management has always revolved around payments execution and the efficient exchange of information between the bank and their corporate customers.
These entities operate at differing levels of technology maturity. They have historically struggled to establish a baseline process that is repeatable and scalable and there has been no mandated standard from the regulators which has meant challenges persist.
Liquidity management has also presented a challenge. Disaggregated banking platforms across currencies and departments has led to an inconsistent view of cash positions and inaccurate liquidity measures.
In summary, the reality for many banks is that cash management processes can be intensely manual and time-consuming and there is an ever-increasing urgency for improvements across the process, and specially related with the information exchange with corporate customers.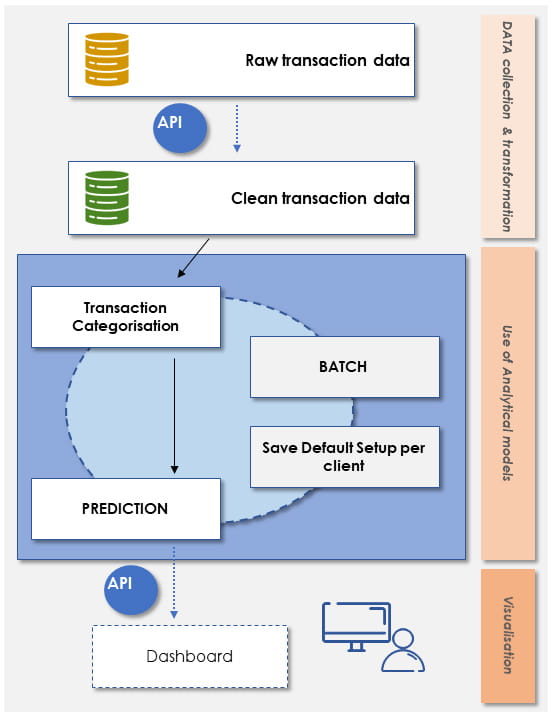 How APIs can Solve the challenges
APIs – application programming interfaces - are a key route to improvement. They expose data and functionality through standardized service interfaces and are the enabler to allow different entities operating in completely different technology environments to seamlessly exchange data.
Not only this, the data exchanged is structured and classified to meet the requirements of a large number of subscribers which can read what is relevant and ignore the rest, based on what they need.
For example, NTT DATA designed a solution for banks to offer banking clients the ability to operate through their corporate banking system adding accounts opened at partner banks (account holding banks) in other geographies (execution of payments, statements).
For that, NTT DATA developed a gateway platform to control all operations and distribute it to the different banks through APIs.
APIs function as the connective tissue that enables disparate technology platforms to talk to each other - both interbank and intrabank. APIs are already taking hold in banking through the results of the Payment Services Directive 2 (PSD2), an open banking regulation in Europe that is mandating banks to open their banking data to third parties.
Banks are taking the opportunity to deploy APIs to expose back-end data functions to their clients, exchanging transaction and account data directly, and immediately, with treasury workstations and other enterprise platforms.
Some of the APIs that NTT DATA is helping banks to develop, are related with files statements, account information (balances, movements' aggregation…), historical information and tracker international payments. NTT DATA offers an end-to-end service, since the identification of the most relevant APIs to their creation, implementation and monitoring of the results obtained.
Conclusion
It's clear the benefits of implementing API solutions are far-reaching. The question is no longer whether adopting APIs is the right strategy for banks – that is in many ways a settled conversation – but rather about the use cases which can exploit the technology the fastest and most effectively.
Businesses need to creatively deploy APIs for the biggest impact and use it to deliver a frictionless, seamless client experience.