NTT DATA, a global provider of digital business and IT services, has strengthened its position as the second-ranked company for customer satisfaction in Europe, according to Whitelane Research's annual "IT Sourcing Study Europe 2022".
This ranking reflects the information gathered during 2022 from more than 1,800 participants across Europe, who gave their views on IT service providers, based on their experiences in each of the areas in which IT services are offered. NTT DATA came in second overall in Europe with a score of 80%, five points above the average. Specifically, 80% of participants said they were 'satisfied' or 'very satisfied' with the service and treatment provided by NTT DATA.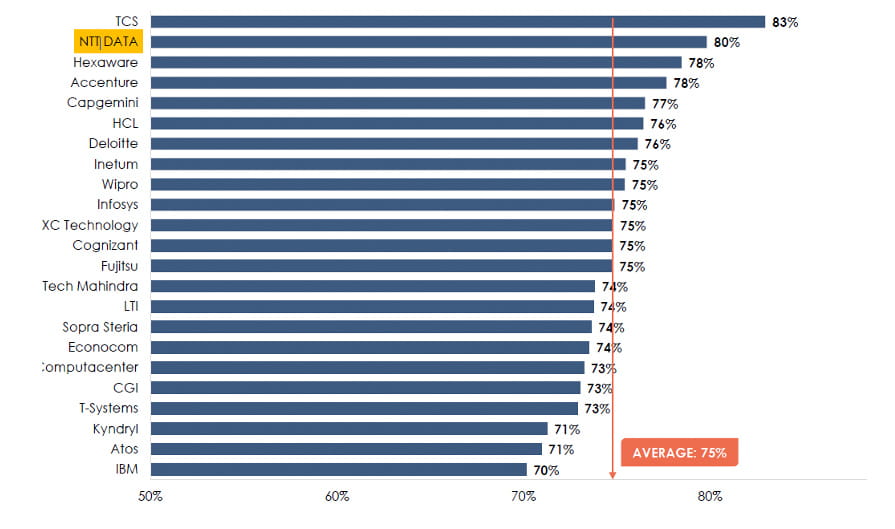 "We are once again entrenched in this position, clearly a reflection of our commitment to providing the best customer service at all times. At the end of the day, they are the ones who know best how we work and how all our professionals are dedicated to accompanying them in their digital transformation processes," says Sophie Leconte, CEO BELUX and FRANCE.
NTT DATA, leader also by industries, areas of expertise and dedication
As for the ranking by industry, NTT DATA maintains high levels of satisfaction, especially in 'Transport, Logistics and Retail' where it is in first position with a score of 84% in satisfaction levels. Another of the sectors where it occupies a privileged position is in 'Energy and Utilities', climbing four positions and achieving a score of 80%. The same happens in 'Telecommunications', which compared to 2021, the company increases from 73 to 83%.
On the other hand, it is worth noting the high value that customers have given to the degree of understanding that the company has of the business. This has led it to occupy third place in the ranking with a score of 82%, above the average of 78%.